Automatic 1600-F2 Two-sided laminating machine
Product Description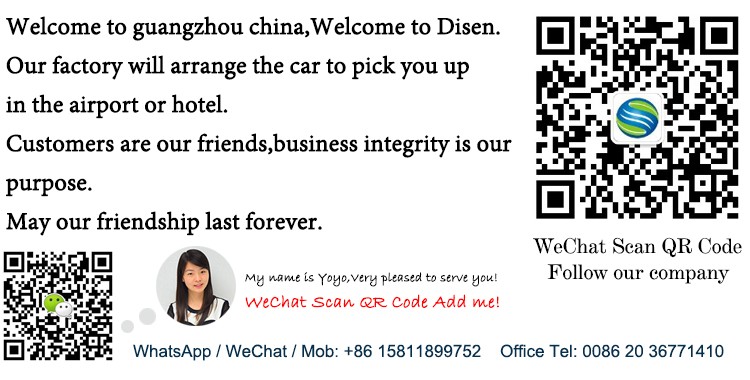 Customer First  Service First     

   
Automatic 1600-F2 Two-sided Laminating Machine 
Scope of application
Wide coil coated for indoor photo outdoor car stickers
Technology parameters

Max width (mm)

1570mm

Max thickness (mm)

25mm

Speed

0-8m/min

Temp range

room temperature-120°C

Roller upgrade

Unilateral linkage to enhance

Roller heating

Infrared within the heating

Preheat time

10-15min

Power consumption

0.9-1.8kw/h

Fixed input power

4300w

Fixed input volt

110/220v

Net weight

260kg

Dimensions

720x1940x1330mm
Machine configuration

180wAdjustable deceleration torque motor

Under the roller diameter 110mm anti-mucosal silicone

Unilateral balanced regulator handwheel

Flip aluminum front platform

The finished map automatically rolling bodies

Non-contact infrared temperature measurement system

Diameter of 130mm imports of high temperature silicone on the next roll

Wrinkle, anti-walk the ramp feeding mechanism (first)

To move the foot switch
  Product advantages
Reduce costs to improve quality
1.5 yuan per square directly reduce costs
· Color reproduction is good translucent high bubbles, snow point phenomenon
Coated high efficiency, high yield
Entire roll of 50 m coated not walk the ramp
Can a single person or unattended operation 220 sq / hour
· Thin adhesive will not wrinkle dark screen cover labor
Can be used for low heating Lengbiao
50 ° C cold lamination can completely avoid air bubbles, snowflakes point phenomenon
· The automatic Jiedi paper
· Can be single or unattended operation 400 square feet / hour    
Customer First Service First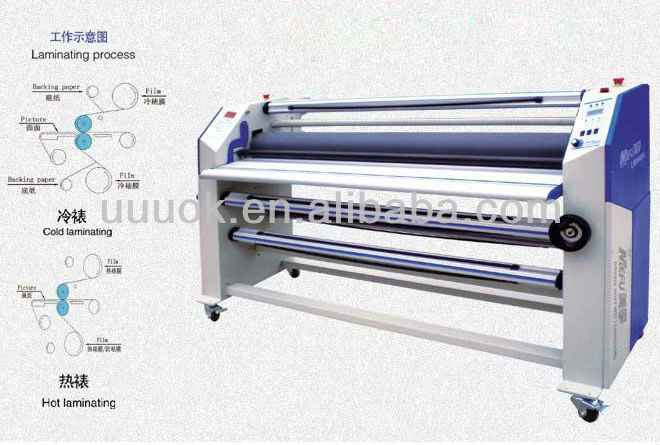 Automatic 1600-F2 Two-sided laminating machine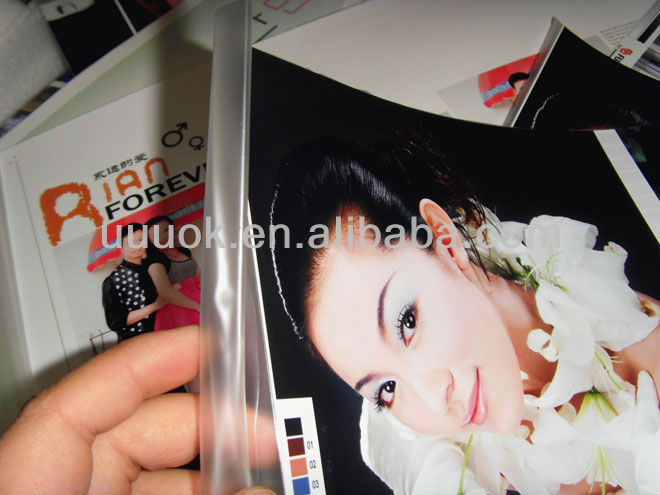 Automatic 1600-F2 Two-sided laminating machine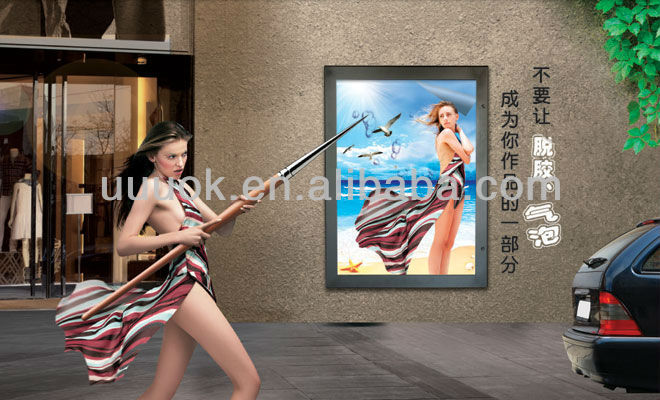 Automatic 1600-F2 Two-sided laminating machine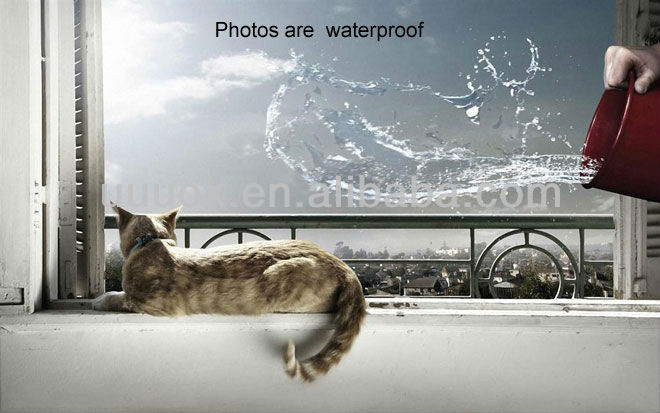 Automatic 1600-F2 Two-sided laminating machine
Automatic 1600-F2 Two-sided laminating machine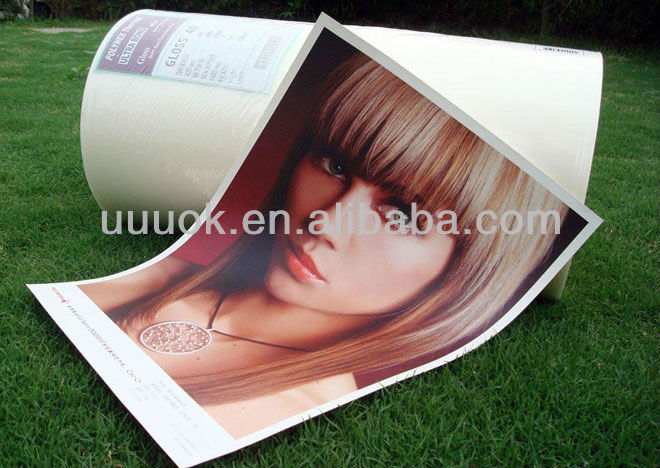 Automatic 1600-F2 Two-sided laminating machine
Customer First Service First

         
Hot laminating machine foreground analysis
Prospect analysis of hot laminating machine film coating process is printed or portrait after a surface processing technology, also known as the prepress, Postpress mounted rubber or plastic printing film.In general, according to the process can be divided into two kinds of coating, lamination film.Film covering technology will make product surface more smooth, bright, stain resistance, water resistance, wear resistance, color more dazzlingly beautiful, is not easy to be damaged, wear resistance, folding resistance, tensile strength and moisture resistance are greatly enhanced, protect all types of printed appearance effect, improves the service life.So the traditional plastic mulch in the future for a long period of time can not be replaced.
Traditional film in two ways: cold mounted (i.e., coating, solvent, non-green) using cold mounted machine, heat mounting (predeposited film, non solvent, environmental protection type) using hot laminating machine.Now in foreign developed countries that film had been banned, and all used to film, environment-friendly hot laminating technology.The former State Economic and Trade Commission in 2002 issued thirty-second orders, has solvent that is coated film included in the third batch of "the elimination of backward production capacity, technology and products catalogue", hot laminating machine also follow the trend was born, hot laminating machine can meet the requirements of national.
Predeposited refers to the plastic film plastic after rewinding and composite technology of paper printing products.It is the pre coating processing factory according to the use of format specifications of different adhesive coating on the film rewinding for use of manufacturers to choose, and then use hot laminating machine or Printing Machine and printing and advertising products for composite.
And the coating, predeposited film has many advantages.Such as reducing pollution, on the human body without injury; not by the nature of the paper or ink and the different effects of coating quality; precoated lamination machine (hot laminating machine) is relatively simple to operate, after processing the graphic effect is better; basically eliminated the folds, bubble, such as shedding phenomenon.
In the promotion of hot laminating machine, heat mounting technology, the printing industry in the forefront, another industry: advertising industry, at present still follow the traditional cold laminating technology, namely solvent, the environmental protection film, cold laminating technology early in its simple process, low equipment cost, operating easily and are widely used, but with the development of the market, and promote the concept of environmental protection, cold mounted disadvantage highlighted gradually come out: not environmental protection, high cost of film, laminating film effect is poor, is not easy to be preserved for a long time, affected by temperature, and higher cost.The traditional cold laminating technology is bound to be eliminated.
A heated roll laminator uses heated rollers to melt glue extruded onto lamination film. This film is in turn applied to a substrate such as paper or card using pressure rollers. The primary purpose of laminating with such a machine is to embellish or protect printed documents or images. Heated roll laminators can vary in size from office based pouch laminators to industrial sized machines. Such industrial machines are primarily used for high quantity/quality output by printers or print finishers.
Whether small office or industrial machines - their primary function is to embellish or protect printed works. Such laminators are used to apply varying thicknesses of lamination film onto substrates such as paper or fabrics. The main advantage to the use of heated roll laminators is that of speed. Heated laminators use heated rollers or heated shoes to melt the glue which is applied to lamination film. The process of heating the glue prior to applying the film to a substrate allows for a faster application of the film. The laminates and adhesives used are generally cheaper to manufacture than cold roll laminates, oftentimes as much as half the cost depending on the comparison made. As the materials are non-adhesive until exposed to heat, they are much easier to handle. The glue is solid at room temperature, so lamination of this type is less likely to shift or warp after its application than pressure activated laminates, which rely on a highly viscous, adhesive fluid. 
What are the advantages of thermal laminating machine
Heat laminating machine heat mounted membrane covered in a coating material by heating a new type of coating equipment, also known as heat-mounted machine. With the progress of the times, some of the old cold laminating process slowly heat-mounted replaced. But many people will be concerns about cold laminating and heat-mounted gap The effect of heat-mounted what will happen
The traditional cold laminating machine is only a two roller machine, by pressure directly to the adhesive film is glued to the printed The machine is cheap, but relatively high cost of consumables. Laminating the effect is not good. This is also a major flaw.
Heat-mounted requirements will be relatively high. First of temperature requires a rubber roller configuration of the machine,rubber roller with imported silicone material. High temperature resistance, good elasticity, aging period is longer, temperature control with precision. Increase the heating time of the laminating film. And thermal equilibrium, so the cover membrane is smooth and bright, the phenomenon of bubbles and folds. At the same time thermal laminating film on the market price is much cheaper than cold laminating film. The cost is also reduced.
Operational aspects of simple and convenient, can be used alone or unattended operation. Saving labor.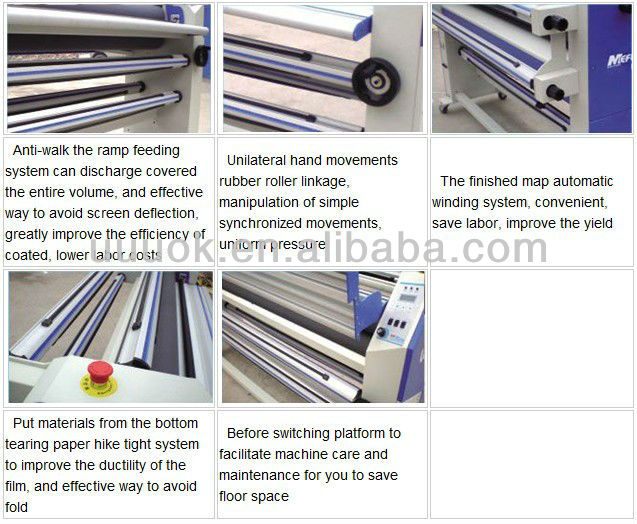 Customer First Service First        

 
Contact us if you need more details on Laminating Machine. We are ready to answer your questions on packaging, logistics, certification or any other aspects about Laminate Machine、Cold Laminator Machine. If these products fail to match your need, please contact us and we would like to provide relevant information.

Product Categories : Advertising Equipment > Laminating Machine